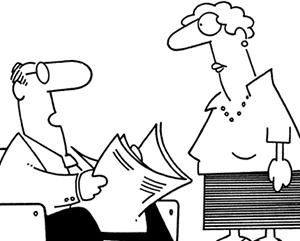 "How can you call me unemotional? You've seen me cry over interest rates!"
Copyright © Randy Glasbergen
Trivia
When in 2003 was the new $20 bill introduced?
See the answer below.
Top-paying jobs
Anesthesiologists take home a median $335,000 in salary and bonus annually. What other great careers from CNNMoney and PayScale.com's list of Best …
CNN Money
What Year Was It?
Pan Am Yankee Clipper flight 101 from London Heathrow lands at New York's Kennedy Airport – and "Beatlemania" arrives.
The day was Feb 7. What year was it?
Trivia Answer
When in 2003 was the new $20 bill introduced?
Answer: October 9th. The treasury revamps paper money every 7 to 10 years to ward off possible counterfeiters.
Quote of the Week
"Money often costs too much."
Ralph Waldo Emerson
Newsletter Archives
January 25, 2017
January 18, 2017
January 11, 2017
January 4, 2017
December 28, 2016
December 21, 2016